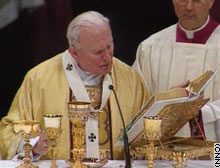 Saw the 2nd half of the movie on Pope John Paul II last night and thought that overall the movie did a good job--especially Jon Voight's portrayal of "the deuce"--in highlighting the life of the former Pontiff.
I had occasion to be in the Pope's presence at World Youth Day in Toronto and when he visited NYC in Central Park. I think that his travelling and his sense of giving people an experience of the Pope will continue to be his legacy. I liked when the movie showed the Pope resisting to slow down despite everyone around him pleading. He was quoted as saying: "Slow down? There is ethnic cleansing in Bosnia, genocide in Rwanda. This is a time when people need to see that the Pope is with them."
The young adults I work with (those in their 20s and 30s) often note that they feel that the Pope "was there for them." That he took time to be visible to them, to be front and center and to give the world an "experience of seeing and meeting the Pope."
That's how I'll remember this great man, who despite his own faults and misgivings, still managed to set the bar high for all of us so often.
I think the movie didn't have a lot of breadth or depth to it--everything seemed like a soundbyte to me. 27 years is hard to capture in 2 hours...never mind his life before the Pontificate.