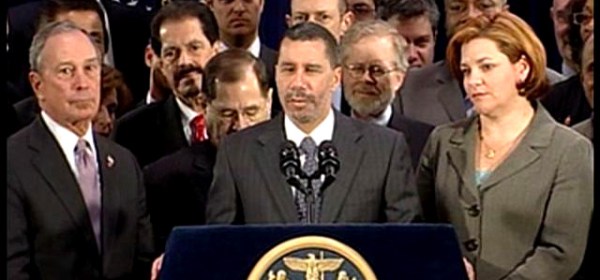 Introduces
gay marriage bill
:
"What we have is not a crisis of issues; we have a crisis of leadership," Paterson said. "We're going to fill that vacuum today. I'm introducing a bill to bring marriage equality to the state of New York."

Mayor Michael Bloomberg stood by Paterson's side during the announcement to demonstrate his support for the bill.

"When it comes to recognizing civil rights, New York state has always been a leader," Bloomberg said, citing the fight for women's suffrage, immigration rights and equal rights for African Americans. "Keeping with that proud history, I agree with the governor that New York should be the next state to allow same-sex marriages."

It won't be an easy road, however. Just yesterday, newly installed Archbishop Timothy Dolan pledged to fight Paterson's bill for gay marriage in the state. Dolan made his intentions clear at his first press conference when asked about the issue.

"The topic you raise -- other topics that are controversial, that the church has a message to give -- yeah, you'll find that I do'nt shy away from those things and I wouldn't sidestep them," Dolan said.
Indeed these two along with Mayor Bloomberg will make interesting sparring partners and it looks like the new Archbishop will do so in a charitable way that remains dedicated to church teaching.